Short function description of Noo Stock Exchange.



Trades on Level2 tool of Noo SE.

You can see trading tool panel on the right of the main page after login in (opposite of stocks name).





For example, letter "T" is possibility to put your order to the system, letter "W" is possibility to copy and paste html-codes to your web page and trade from there, letter "L" is possibility to see online trading situation. "O" and "D" - orders and trades, "I" - interest payment function, "M" - possibility to move stocks to other serial (it is insider deal and cost 1% of volume), "F" - stock holders forum.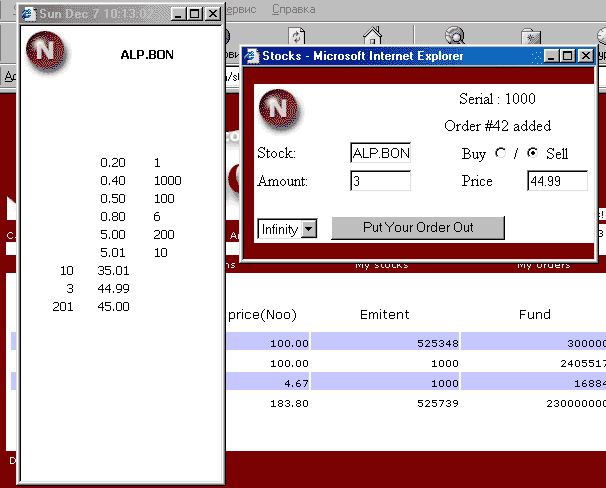 Auction trading.

Main thing that trader needs to know is the deals with help with the price of bid at the moment then auction over. For example, if seller placed ask order with 100 units price, but buyers placed orders with 5 noo units price then at the end of the auction time deals will be with 5 units price and no more.



First of all traders need to learn Rules and legislations of Leading stuff of Noo SE.
It is russian text documents. Just after login trader moving on the main detail of stocks and trade and tools panel





Digit 1 is Noo units amount trader has on the account and could be used for trading. Digits 2, 3, 4 is "My auctions" (information about trader`s auctions as seller), "My stocks" (informations about stocks trader own), and "My orders" (infornation about orders placed to auctions). These link can give informations about current stock situation on the account. Digit 5 is trading names of stocks, by clicking on the stock name trader could take the information about other trader`s auction. By digit 6 is marked the information about auctions on the next image.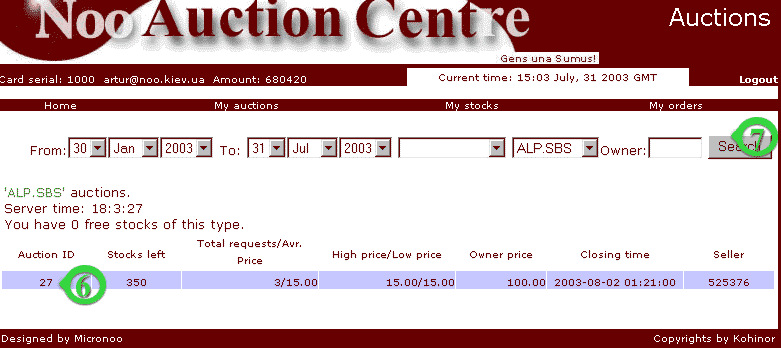 Digit 7 is search machine can be used for searching information about auctions, deals and orders.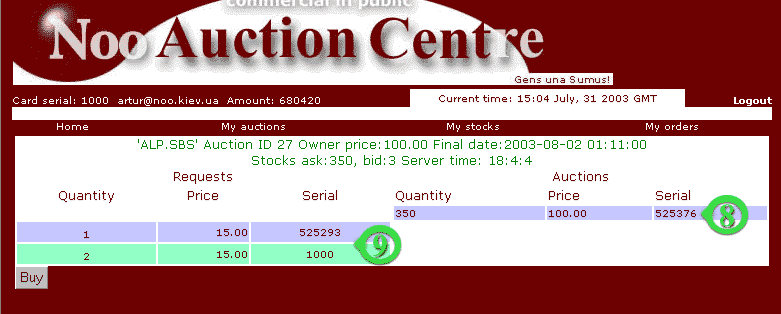 By clicking on the auction line trader can to see current auction situation. Auction can have only ask order and a lot of bid orders.

To place the order trader may use button "Buy", small frame will be opened, fill the form with quantity and price and put the order into auction. If the buyer will place the price equil to seller price or more then deal will held immediately with seller price.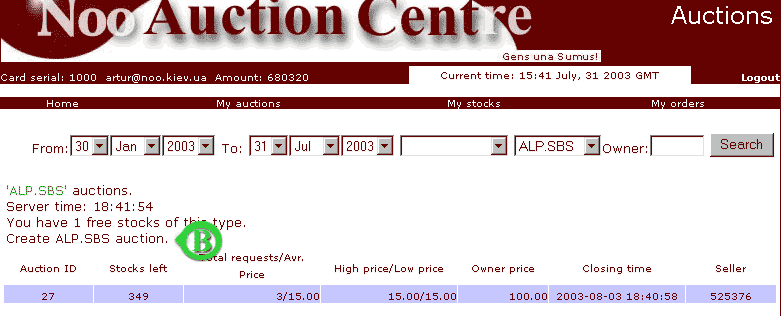 To create auction trader can click on link which marked by digit B. It is need to activate forum link (digit C), so trader promote your with to sell some quantity of stocks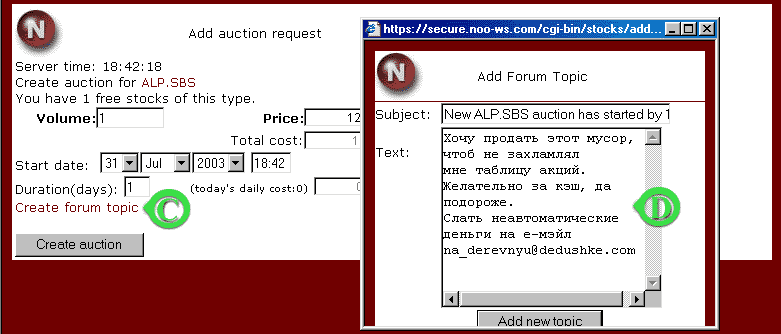 Seller can cancel or accept auction during last day of the auction. Duration of auction is at 1 to 9 days.